Skip to Content
Why You Should Consider Adding Solar Power to Your Home or Business
Save on Your Energy Bill
APS calculates that if your energy bill is $267 per month, a solar system will save you over $109,898 over the life of your system (25 years)
As energy costs continue to rise, those savings might even increase.
See cost savings right away – your APS bill will go down an estimated 90%.
$5K a year estimated savings
The Federal Tax Incentives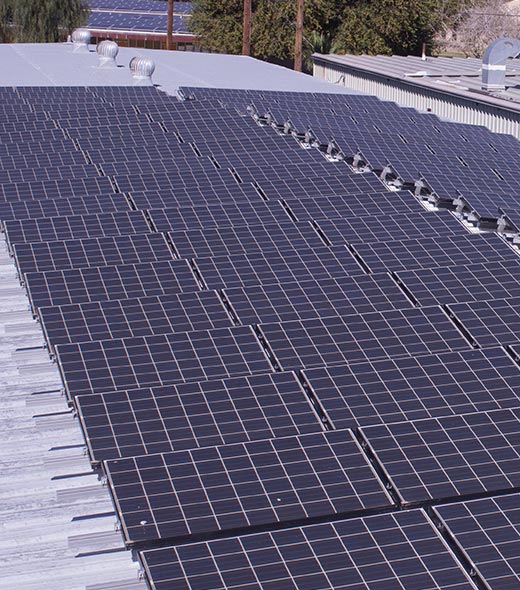 Allows you to reduce income taxes owed by up to 26% of the total cost of a solar system installation.
This applies to both businesses (Solar Investment Tax Credit (ITC)) and households (residential renewable energy tax credit)
If your rooftop solar system costs $30,000, you could reduce your income tax bill by 26% of that, or $7,800
It is possible to carry the unused amount to the subsequent tax year, but after two years any remaining credit you've earned goes away (fixed income, retirees)
Take Advantage Now…
These credits are currently set to phase out over the course of the next few years. The tax credit will step down to 26% in 2020, then 22% in 2021, then remain permanent at 10% for commercial projects (while the residential credit will phase out).Now is the time to act!
59% compound annual solar growth since they were enacted.
Bonus depreciation allows businesses to claim 100% of the cost of their solar system as a business expense in the first year after installation, instead of spreading out the cost over 5 years or more with normal depreciation rules.
Because businesses generally prefer to claim their tax savings as soon as possible, this is expected to further incentivize solar.
Arizona State Solar Incentives
Residential Solar Energy Credit up to 25% of the cost of the system ($1,000 max)
Sales Tax Exemptions Solar system sales tax exemption (100% on eligible products
Property Tax Exemptions on added home value from the solar system
Environmental Impacts
Reduce emissions by 9.04 metric tons per year
Equivalent to planting 63 trees
Equivalent to driving 22,041 fewer miles a year
Call Mike Powers at D&H Electric 928-726-5671 for all your solar needs!