Skip to Content
Why Choose LED Landscape Lighting?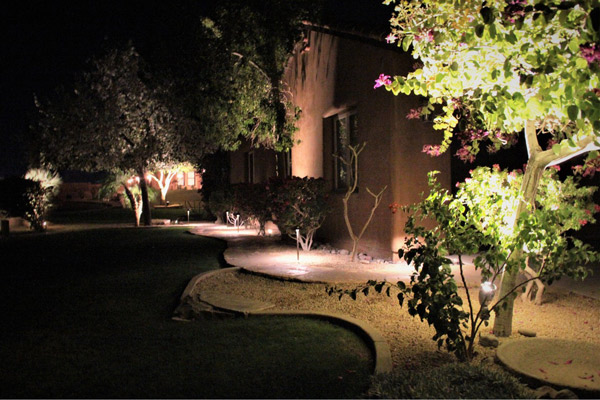 Great-looking landscape light design can increase the value of your home by enhancing its curb appeal and security. Various studies and reports have put this increase anywhere from 7-28% over homes without good landscaping or lighting. It has been proven that well-landscaped and properly lit homes also tend to be on the market for a shorter period of time.
The National Homebuyer's Association consistently shows outdoor lighting at the top of its list of "most desirable features." In fact, most of the homeowners surveyed consider outdoor lighting "desirable," and a majority of those consider it "essential."
You Want a More Sustainable Property
LED light sources are gaining in popularity due to the growing energy conservation movement. According to the U.S. Department of Energy, no other lighting technology offers as much potential to save energy and enhance the quality of building environments. LED lights provide environmentally friendly fixtures which consume less energy. This means lower energy bills, less time spent changing halogen bulbs, and less waste.
Not only does the energy savings mentioned above make LEDs more sustainable, but so does their ability to emit less heat which helps with longer lifespan, reducing the need for maintenance and replacements.
The Benefits of LEE Landscape Lighting:
Pure, beautiful, consistent light enhances your landscape's natural colors.
Uses 75% less energy than halogen for long-term cost savings.
No light bulbs to buy or replace.
Environmentally friendly design means less energy waste and no bulbs to throw away.
Fixtures are tested to withstand the elements for years of enjoyment.
Are you interested in adding LED landscape lighting to your home? Call D&H Electric at 928-726-5671 today!